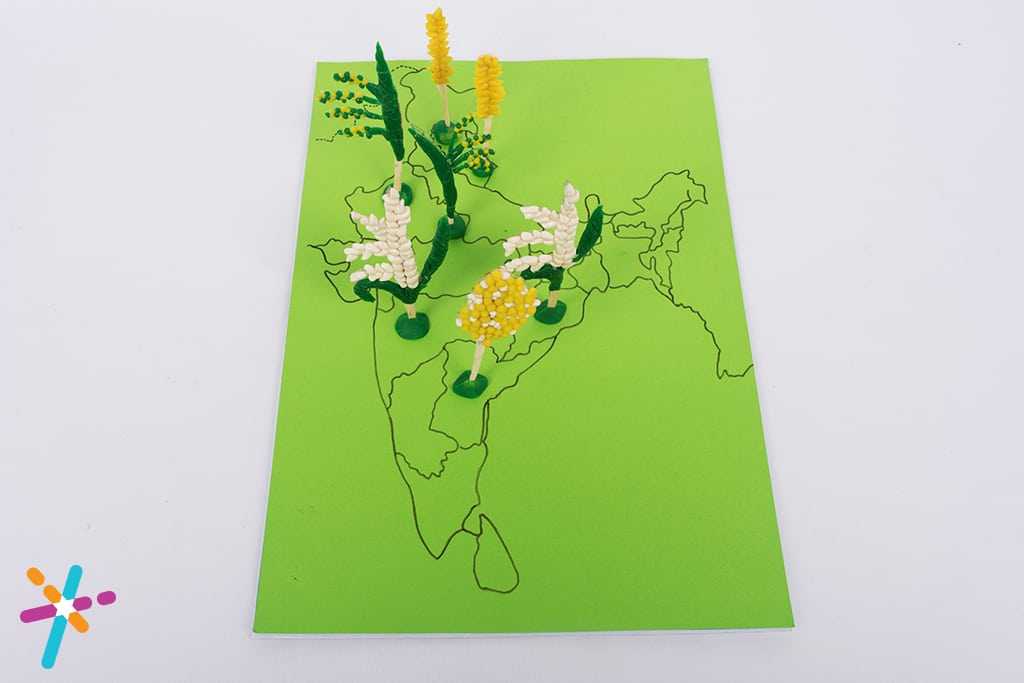 Science
Variety Of Crops
Fevicreate Science Activities let you explore the cross-disciplinary learning with creative science art activities for curious kids. Not only would this creating journey increase knowledge of the scientific world but will also lead to willingness to discover and experiment.
Paper Crafting Environment 30 to 60 mins 6 to 8 years Science Class 2
Steps to Create this Activity
Steps to Create this Activity
Step - 01
Take a green chart paper and trace the map of India on it.
Step - 02
Outline the entire map with a black felt pen.
Step - 03
Take some moulding dough of your choice.
Step - 04
Create the different types of grains using moulding dough.
Step - 05
Cut out the ice-cream sticks in such a way that they are narrow towards the bottom.
Step - 06
Stick the grains on the ice-cream sticks with Fevicol A+ and coat it with a layer of Fevicol A+.
Step - 07
Draw the grains and paint them with Rangeela Tempera Colours.
Step - 08
Cut them with the help of safety scissors and keep them aside.
Step - 09
Place a foam sheet in between the paper and the mount board and stick it with Fevicol A+.
Step - 10
Poke the elements precisely on the map as per the region and apply Fevicol A+ for it to remain sturdy.