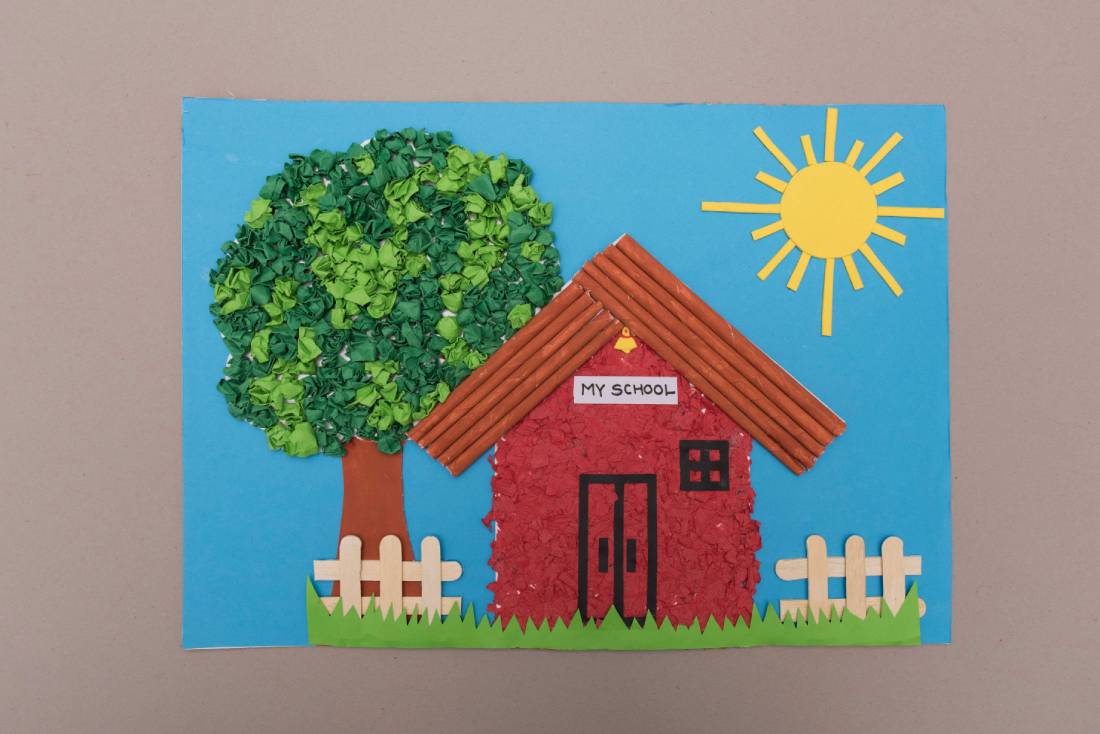 Science
OUR SCHOOL
Fevicreate Science Activities let you explore the cross-disciplinary learning with creative science art activities for curious kids. Not only would this creating journey increase knowledge of the scientific world but will also lead to willingness to discover and experiment.
Mixed Media Paper Crafting 30 to 60 mins 6 to 8 years Science Class 1
Steps to Create this Activity
Steps to Create this Activity
Step - 01
Take green, dark green and brown coloured crepe papers
Step - 02
Tear the brown crepe papers into bits, crumple the other two into small ball and keep them aside
Step - 03
Roll some papers into paper straws with a barbecue stick and paste the ends with Fevicol A+
Step - 04
Cut out the straws neatly with the help of safety scissors
Step - 05
Paint the straws with Rangeela Tempera Colours
Step - 06
Stick all the elements as shown above with Fevicol A+. Make the doors, windows and other elements with quilling strips and stick them on the crepe school with Fevicol A+.
Step - 07
Cut out a circle from the foam sheet and some yellow quilling strips for the sun and its rays
Step - 08
Make some fences for the school using the ice cream sticks and stick them all with Fevicol A+
Step - 09
Cut out grass from a green chart paper and keep them aside
Step - 10
Stick the elements with Fevicol A+ and our school crepe paper craft is ready