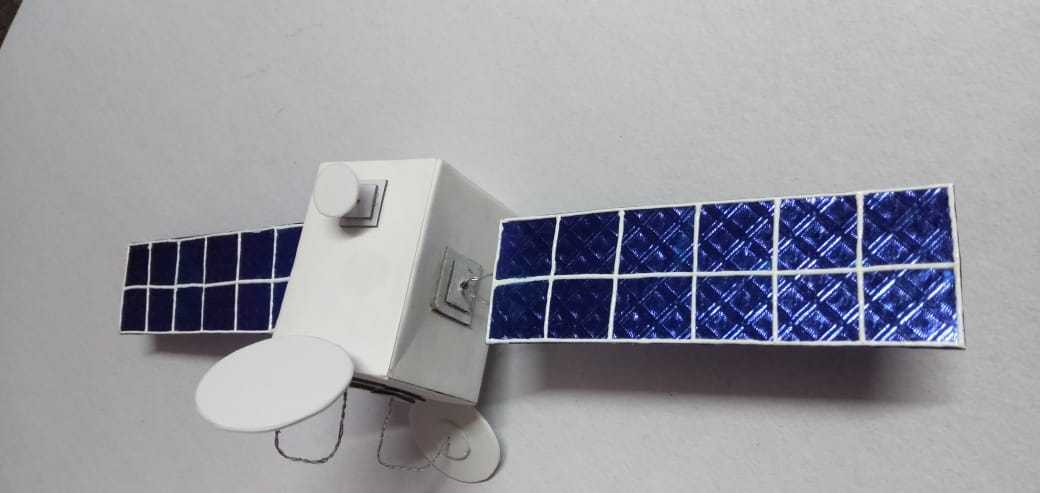 Steps to Create this Activity
Steps to Create this Activity
Step - 01
To create satellite's main body, find any recycled box available at home. Now cover that box with white chart paper using Fevicol A+.
Step - 02
Now poke parallel holes on the container with the help of barbeque stick or paper cutter. Now insert long flower wire through it as shown. Now take mount board cut out small sqaure pieces poke holes and stick as shown
Step - 03
To create power source panel, take foam sheet or mount board cut it into rectangular shape make sure it proportionates to container made. Now using Fevicol A+ stick onto the flower wire and let it dry
Step - 04
Now take blue coloured craft paper which has metallic finish to cover source panels. Make sure to cut proportionate enough which can cover whole panels.
Step - 05
Using Fevicol A+, cover the cut outs around the source panel as shown and let it dry
Step - 06
To create communication device and other science instruments, take mount, flower wire and foam as shown
Step - 07
Using Fevicol A+, stick elements as shown and let it dry. Now take Fevicryl 3D Outliner and neatly draw out lines onto source panel as shown let it dry .
Step - 08
To give more details to satellite, you can stick beads and other embellishments around science instruments using Fevicol A+.