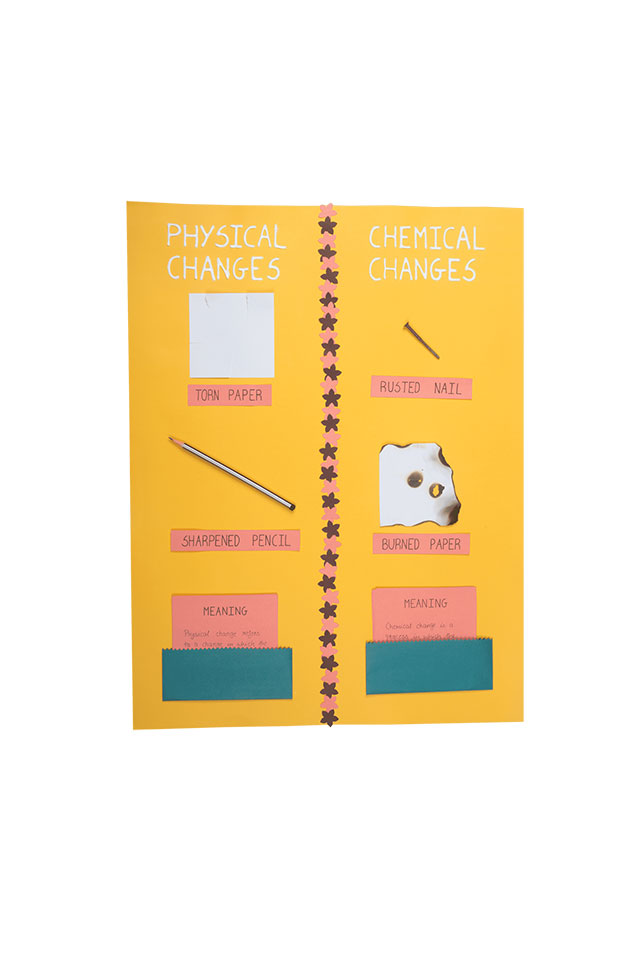 Science
How Things React With One Another
Fevicreate Science Activities let you explore the cross-disciplinary learning with creative science art activities for curious kids. Not only would this creating journey increase knowledge of the scientific world but will also lead to willingness to discover and experiment.
Mixed Media Life 30 to 60 mins 9 to 14 years Science Class 7


Steps to Create this Activity
Steps to Create this Activity
Step - 01
Draw two 9cms x 2cms pockets on card paper and cut it out with the help of safety scissors
Step - 02
Take some squares measuring 9cms x 9cms and write the nature, meaning, etc. with a felt pen
Step - 03
Stick all the materials pertaining to physical and chemical change as shown above with Fevicol A+. Label each item so as to identify them correctly
Step - 04
Stick some flowers punched with the flower punching machine to divide both the changes. Our Physical Change and Chemical Change chart is ready!